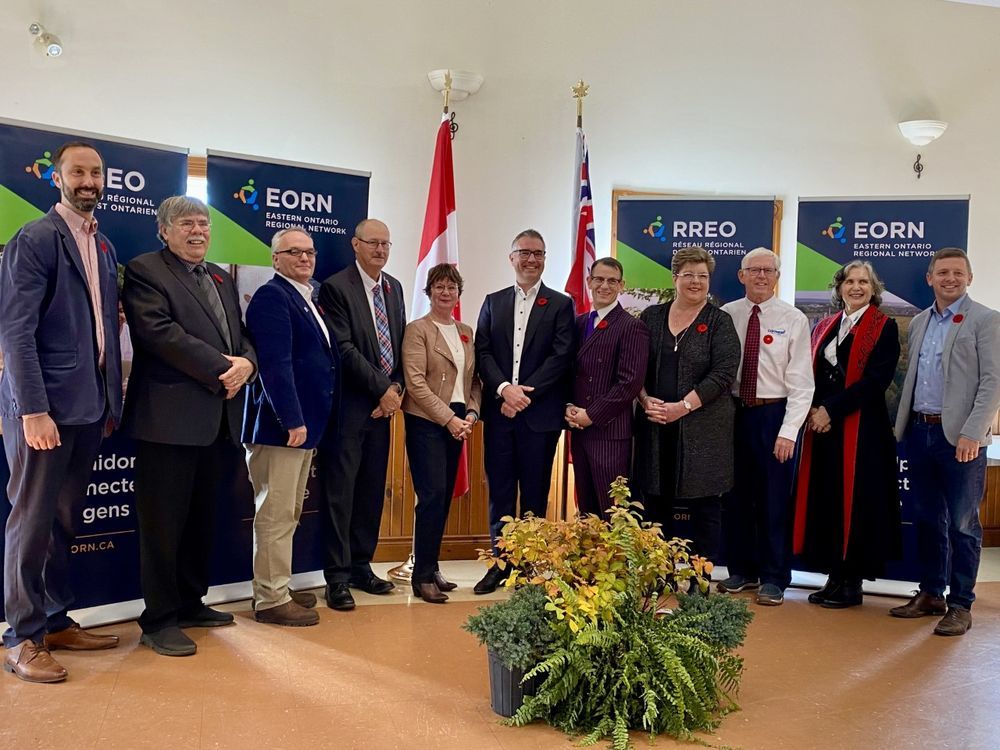 Content of the article
MAXVILLE – On Monday, SDG Director Carma Williams reflected on how the 2022 Maxville Highland Games participants jiggle atop the hills, waving their cell phones in the air, trying to grab a moment of cell service to send a message.
Content of the article
This is partly due to the installation of new 5G cellular service towers from Rogers Communications in North Glengarry, which now specifically serve the surrounding areas of Maxville, Glen Robertson, Greenfield and Wendover. Wendover is located in the Township of Alfred and Plantagenet, in the United Counties of Prescott-Russell.
Various local dignitaries and project partners gathered Monday to celebrate the successes of the $300 million public-private effort so far, spearheaded by the Eastern Ontario Regional Network's Cell Gap project ( EORN). Through a partnership with the federal and provincial governments, members of the Eastern Ontario Wardens' Caucus (EOWC) and the Eastern Ontario Mayors' Caucus (EOMC), Rogers is building more than 300 telecommunications towers — some used as flatsharesand modernize more than 300 existing sites by 2025 to Support 5G data and LTE phones. To date, more than 260 sites have been upgraded.
Content of the article
In May, Jim Pine, a member of the EORN team, CAO for Hastings County and Senior Aboriginal Consultant, said construction of six towers in SDG was underway. Of the four discussed and celebrated on Monday, only three fall within the boundaries of the SDGs. However, EORN Director of Communications Lisa Severson has confirmed throughout the project that 15 towers are expected to be built and 18 towers have been identified for upgrades in the United Counties of SDG.
Four new cell towers being built in SDG, according to EORN

MPP McDonell thrilled with rural internet ads

SDG Council Receives Update on EORN Gig, Cellular Gap Projects
Although there is no concrete timeline, Severson said most sites are now at the stage of ongoing archaeological and natural heritage studies before the boots hit the ground.
Content of the article
SDG contributed a total of $567,000 to the project, which also received municipal support from areas around Belleville in the west, down to SDG and Prescott-Russell.

Pine previously mentioned that the project would also benefit paramedics, local businesses and the tourism sector, by expanding current connectivity capacity. Asked about future plans, Pine said work direction was moving from east to west, while being mindful of efficiency along the way.
"Our community continues to participate in reviewing each cell tower site and visiting those with potential areas of concern, for example, habitat disturbance, rare plants, waterways, etc. I was informed by our team at Pikwakanagan that EORN representatives have been very respectful and supportive of these concerns," said Wendy Jocko, Chief of the Algonquins of Pikwakanagan.
Content of the article
Parliamentary Secretary to the Minister of Agriculture and Agri-Food and Member of Parliament for Glengarry—Prescott—Russell, Francis Drouin, said, "We know that technology continues to evolve and the demand for towers continues to increase. I'm glad the Government of Canada is partnering with $70 million, and Rogers is putting a lot of money into it as well. I am happy that today is a testament to the success that so many people have worked hard to make this project a reality.
"(Rogers) is preparing us for a very bright future: the latest generation of technology capable of meeting the needs of today and the opportunities of tomorrow. Things are changing so fast, and this project allows us to keep pace," said the EORN President. J. Murray Jones, who acknowledged the support of many in attendance, in particular the EORN Board of Directors, Drouin, and former Prince Edward—Hastings MLA, Daryl Kramp.
Content of the article
Bart Nickerson, Senior Vice President, Wireless Marketing at Rogers Communications was in attendance and spoke of his enthusiasm for the project.
"It's exciting to me that we're bringing 5G connectivity to this region. It means farmers can monitor livestock and soil conditions in real time, and emergency services can use new tools in their communities. Starting today, as we continue to power up more new cell towers across the region, more communities will be safely connected without dead zones…to 99% of East End residents and businesses. Ontario.