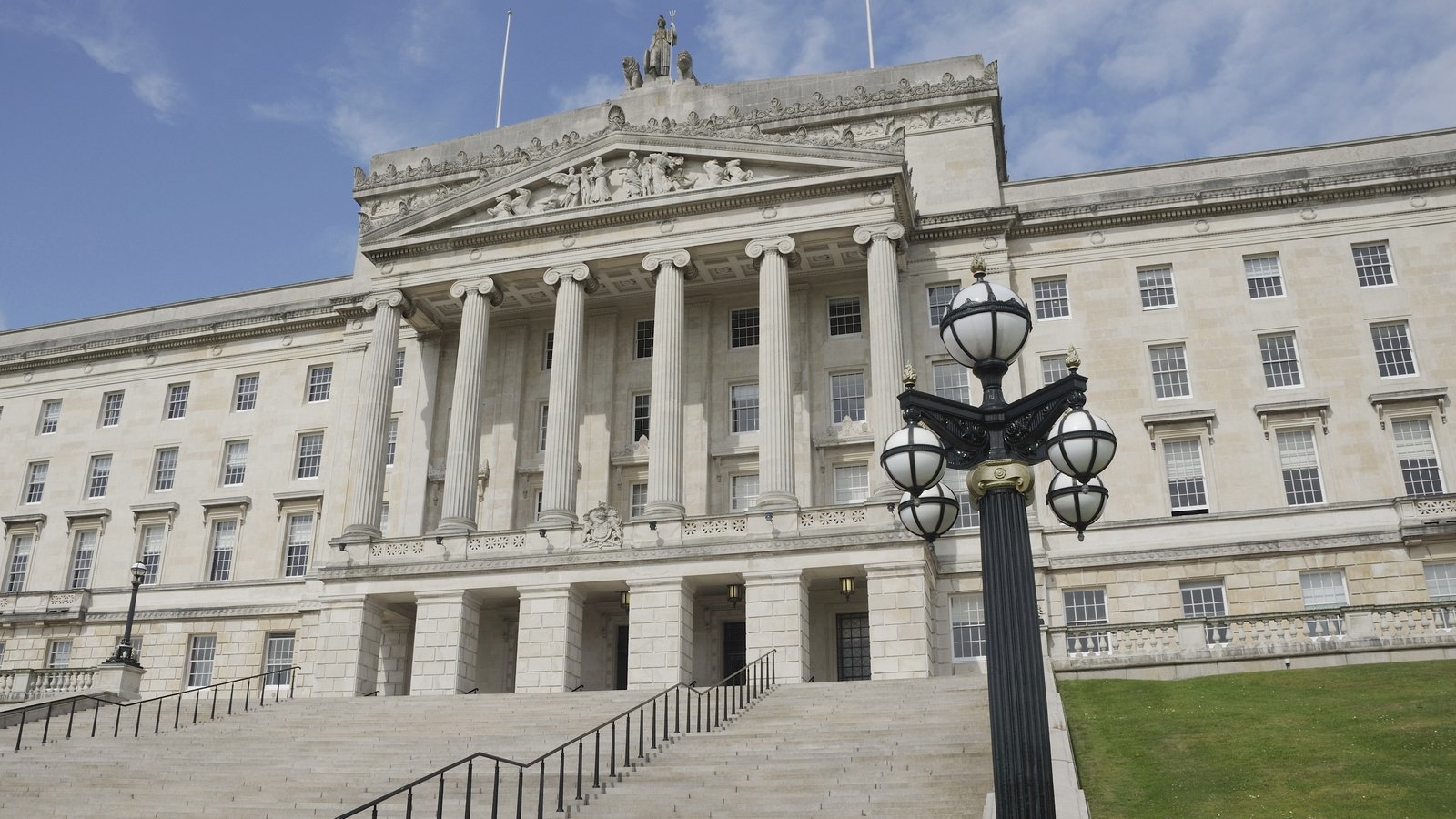 A possible border poll has been a central concern for the leader of one of Northern Ireland's two largest parties during this election campaign.
He was mentioned in virtually every one of their statements and incorporated into media responses on a range of issues, from the need for urgent health service reform to the cost of living crisis and the protocol of Northern Ireland. North.
The person in question is not the leader of Sinn Féin north of the border, Michelle O'Neill, but the leader of the DUP, Jeffrey Donaldson.
The message was clear in a headline of an article by the DUP leader in the Belfast trade union daily The News Letter on Friday.
"If SF wins they will demand a date for a border poll," it read.
In the article, Mr Donaldson said: 'They won't admit it, but there are plenty of Republicans who think the election is as good as it gets in the bag and their day has come.'
He added: "Make no mistake, if Sinn Féin wins this election they won't be talking about fixing our health service, training more GPs or providing 30 hours of free childcare, they will be talking of a date for a divisive border ballot."
DUP election candidates also sent a similar message ahead of the May 5 ballot.
Speaking on the BBC's Newsnight program on Thursday, Peter Weir, former education minister for Stormont and candidate for Strangford, suggested that Sinn Féin had diluted talk of a border poll during the campaign.
He suggested it was because the party didn't want to "scare the horses", but warned the issue would be a priority if it emerged as the larger party.
A referendum on Irish unity is a political goal of Sinn Féin's election manifesto, appearing on page 9, after the cost of living crisis and health, but before the economy, housing and education.
One of the stated priorities is "to obtain a date from the Irish and British governments for the unity referendums provided for in the Good Friday agreement".
If the DUP team leader finishes second, he would be the first union leader to do so in Northern Ireland history.
To the surprise of many political commentators – and it appears to be the DUP – he was not the focus of the party's campaign.
Time and again, Michelle O'Neill and other party figures have cited health services and tackling the cost of living crisis as key issues.
Taoiseach Micheál Martin, Tánaiste Leo Varadkar, Foreign Secretary Simon Coveney and the leaders of all the other Stormont parties have repeatedly said that setting a date for a border poll at short notice could be extremely divisive and of destabilization.
Sinn Féin disagree, but they have boxed smartly on the issue this campaign, avoiding giving the DUP and other opponents a crocodile moment.
It was in Lurgan in County Armagh in February 2017, just weeks before the last Stormont Assembly election, that then DUP leader Arlene Foster spoke out against a law on the Irish language, adding that: "If you feed a crocodile, it will keep coming back. for more."
The comment outraged nationalists and was a monumental political mistake. Sinn Féin couldn't believe their luck as the anger helped galvanize their support and made people vote, including many who hadn't backed the party at the polls.
Less than a month later – when the votes were counted – it gave Sinn Féin 27.9% first preferences and 27 seats in the Assembly, just behind the DUP with 28.1% and 28 seats. .
Party strategists know that hardline statements suggesting that a campaign for an Irish unity vote was the priority after this election would have a similar impact: nothing would motivate unionists and loyalists more than talk of an eventual Ireland. united at the corner of the street.
Similarly, Michelle O'Neill has not openly spoken of a desire to be the first Nationalist prime minister.
This would represent a historic and extremely symbolic change.
Since its inception a little over a century ago, Northern Ireland has been dominated by political unionism.
There have been Unionist Prime Ministers and Unionist Prime Ministers, but never a Catholic and nationalist head of government.
The slogan of Sinn Féin's election manifesto, "Time for real change", alludes to a desire for change in this historic political order, but does not specify it.
Instead, in its public statements, the party has focused on health and the cost of living as it tries to make itself as transfer-friendly as possible.
The single transferable vote system used in Assembly elections allows voters to rank parties in order of preference and their lower preferences come into play once their first choice is elected or eliminated.
The system means Sinn Féin could win most first preferences but not most seats, as transfers could help opponents.
There could be a scenario where Sinn Féin is the leading party in terms of votes, but the DUP still leads in terms of seats.
It is the party with the most seats that appoints a Prime Minister, so if the post of head of government in Northern Ireland is to be filled by a nationalist for the first time, Sinn Féin will need transfers.
If the score is zero and the parties are tied on the number of seats won, the party with the most first preferences wins the right to appoint the prime minister.
The Alliance could be the big winner in terms of additional votes and seats.
In addition to carefully managing transfers between its own candidates, the party knows it must attract as much as possible from the SDLP and the growing number of non-aligned voters who define themselves neither as nationalists nor as unionists.
Asked at the launch of her manifesto in Belfast last week to set out the desired timetable for a border ballot, party leader Mary Lou McDonald spoke of "a decade of change", but did not specify a timetable: no crocodile to scare Unionist horses.
It will likely be another story on the doorstep of Republican areas where traditional Sinn Féin voters will be assured the party's commitment to a border ballot remains as strong as ever, but those words will not be heard by Unionist voters. that the DUP hopes to galvanize.
The growing expectation that Sinn Féin is likely to emerge as the biggest party when the votes are counted is putting enormous pressure on Michelle O'Neill and Jeffrey Donaldson.
If the DUP team leader finishes second, he would be the first union leader to do so in Northern Ireland history.
In a party clearly fractured since the coup that led to the ousting of former leader Arlene Foster last year, this could lead to serious recriminations, a widening of the fissures and questions about its position.
Michelle O'Neill has a different kind of pressure to contend with as a series of opinion polls, virtually every political commentator north of the border and bookies make her team the favourites.
A failure to deliver the award would no doubt lead to questions about the election campaign and his direction of it.
Last time out, the SDLP finished third in seats won with 12.
In what has been described as a potentially historic and seismic election, the campaign itself has been surprisingly boring.
A number of his seats are considered vulnerable, but leader Colum Eastwood is hopeful he can secure a number of targeted gains to offset any losses.
Former British Army officer Doug Beattie leads the Ulster Unionist Party into battle for the first time.
He won 10 seats last time out and he hopes his more liberal brand, including opposition to anti-protocol rallies by other unionists and loyalists, will attract more votes.
His first battle is in his own constituency of Upper Bann, where he faces opposition from more radical trade unionists as well as a strong Alliance candidate.
Of all the Northern Ireland party leaders, Naomi Long appears to be under the least pressure with questions centering on how many new seats her party will win.
While Sinn Féin and the DUP focus on retaining what they have and minimizing losses, the Alliance could be the big winner in terms of additional votes and seats.
Green Party leader in Northern Ireland Clare Bailey expects him to keep his two seats, including his in south Belfast, and possibly make a win.
Jim Allister, the leader and sole representative in the Assembly of the traditional Unionist voice, aims to turn his hardline opposition into votes and seats.
He has publicly declared that the party that returns after this election with only one seat will be a failure.
The consensus is that there's never been a better time for him to break through and give him some company on the benches at Stormont.
In what has been described as a potentially historic and seismic election, the campaign itself has been surprisingly boring.
But results day promises a lot of drama.
History could be made. Or just repeated.
Then the fireworks could begin.