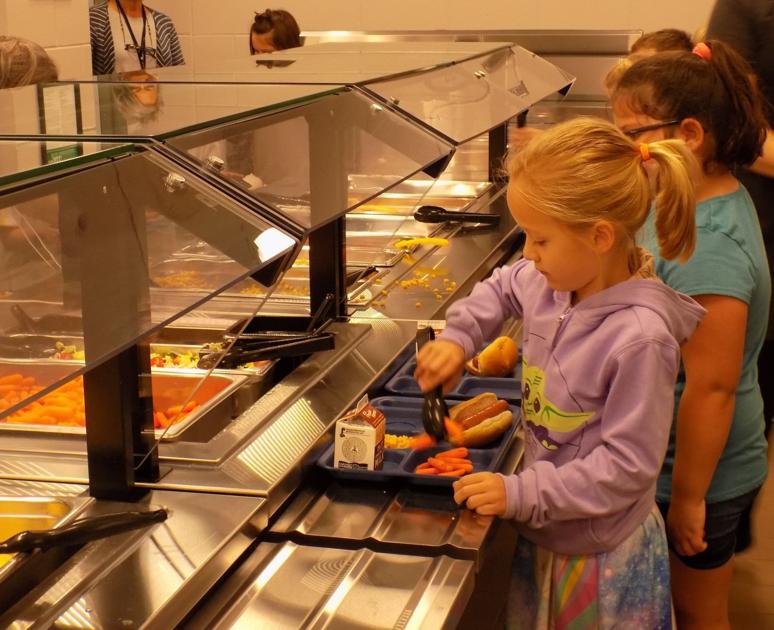 Having received deliveries of school meals from her grocery supplier, Steuben County Metropolitan School District Director of Food Services Stephanie Haynes-Clifford said the last three deliveries were "like Christmas … you don't. not know what you are getting! "
Haynes-Clifford is one of many school food service managers who are feeling the impact of national supply chain issues.
"The supply chain has been slowed down by COVID, the lack of warehouse workers and drivers," Hamilton Schools Superintendent Anthony Cassel said in a message to families in Hamilton.
"Schools are having a hard time finding food all over the United States. The menu may not be correct as our staff go to great lengths to provide meals for our students. We will take the necessary steps to ensure the continuity of breakfast and lunch. "
Cassel said in a recent week that only half of an order is expected and replacement items are hard to come by.
"Once again, we will continue the meal service. It may look different from the menu until the supplies become more reliable again, "Cassel said.
In DeKalb Central schools, the situation is no different.
"We have a lot of shortages from our food vendors just like any restaurant or business across the country," said Foodservice Manager Ashlee Shroyer.
She said the district is having difficulty obtaining items such as bottled water, chicken products, pizza and cheese, as well as paper products and silverware.
"And it's not necessarily that the food is not available in the country. It is because there is a shortage of employees. There is a shortage of people making the plastic to send to the company who fill it with water which is then shipped to us. Or a shortage of truck drivers, so that doesn't necessarily mean the item is out of date. It's because the production availability is super limited, "said Shroyer.
Shroyer said the district started to see supply issues this summer, "but not as bad as we are seeing now."
For example, she said, one day last week, she spent almost four hours trying to replace products through a supplier, because the menu items originally didn't were not available.
Haynes-Clifford said shortages have exploded over the past three weeks. Traditionally, their food service may encounter a few out-of-stock items each week that can easily be replaced by ordering a similar item. Now she has more than half a page of out-of-stock items in some buildings, she added.
"The entrees for breakfast and lunch are the biggest challenge because they aren't as easy to replace. When the corn runs out, you order a different pack or brand, "said Haynes-Clifford.
"It is very difficult for the salesperson to be able to communicate what the truck actually does and what not… I don't want to disrespect our salesperson in any way. All salespeople experience this.
Haynes-Clifford said his department has been fortunate to have enough items in-house to replace with and is diligently trying to order additional items to have on hand.
East Noble School Corporation, like so many businesses across the state, is experiencing inconsistencies in food options and deliveries, said Teresa Gremaux, superintendent of the East Noble School Corporation.
"The National School Nutrition Standards, which regulate what foods can be served to students, have made it difficult to purchase lunch and breakfast items while meeting these strict regulations. There is an urgent need to relax national nutritional standards as we navigate the hurdle of food shortage, "said Gremaux.
"Although our food service staff do their best to purchase relief supplies and research alternative options, the supply chain is limited. The shortage of drivers and workers also contributed to the situation, which has become increasingly problematic since returning to school in August.
Shroyer said the United States Department of Agriculture and the Indiana Department of Education have granted waivers to the school lunch program's nutritional guidelines to help reduce the burden.
"But honestly, it's still very difficult," added Shroyer.
For example, Shroyer said, every main course should be 51% or more whole grain. Under the waiver, districts are allowed to serve an average of 50% of whole grain-rich items in a week, she explained.
"Our breadsticks might not someday be whole grain, but as long as we're on average at 50% we're still in compliance," she added.
Shroyer said his department was more creative in providing meals for students to serve.
"If we have orange chicken on our menu – it's one of the kids' favorites – it might not be the brand they like the most. We buy chicken products and try to substitute with a sauce from somewhere else, then maybe some stir-fried veg from another company and make our own game on our menu items as much as possible, "she said. .
"Managers spend hours trying to find products. It's a weekly and ongoing thing. It is certainly a collaborative effort. Fortunately, our suppliers understand and they help us too. They see what we can't get and they give us ideas and say 'Hey, try this one. Another school district was successful, "or" We think we have this one in stock. Try this.
Shroyer said the school lunch menus are set up so there are several options to choose from.
"There is always food. It might not be their favorite choice that day, "she added.
Lakeland's foodservice manager Tammy Fennell said she was having difficulty obtaining chicken products.
"When we substitute items, when offered like chicken nuggets, we're trying to find either a popcorn chicken, chicken fillets, or even a chicken patty," Fennell said.
"It started where we could find replacements when they were out of what we wanted, but last week it wasn't even possible. For our incoming chicken, I had something in the freezer for us to rest.
"We try to make sure we have lots of government chicken, like diced chicken, in our freezers, so we make sure we keep noodles on the shelves – something to make chicken and noodles. Anything that is shelf stable, we try to keep on our shelves just in case we can't find a substitute, we'll have enough to feed the children.
Fennell said she is working on her menus for October and tries not to include out-of-stock items. But she noted that students have favorite items and she doesn't want to rule them out in case they are available.
Fennell said she also struggles to get paper products.
"We can't find any straws. It's a problem, "she added.
Shroyer said his menus for August and September were prepared in July, knowing there were supply issues. Now she's getting ready to handle the menus for October, November and December, she added.
"But the menu I make is honestly going to change from week to week because that's how often the inventory changes," Shroyer said.