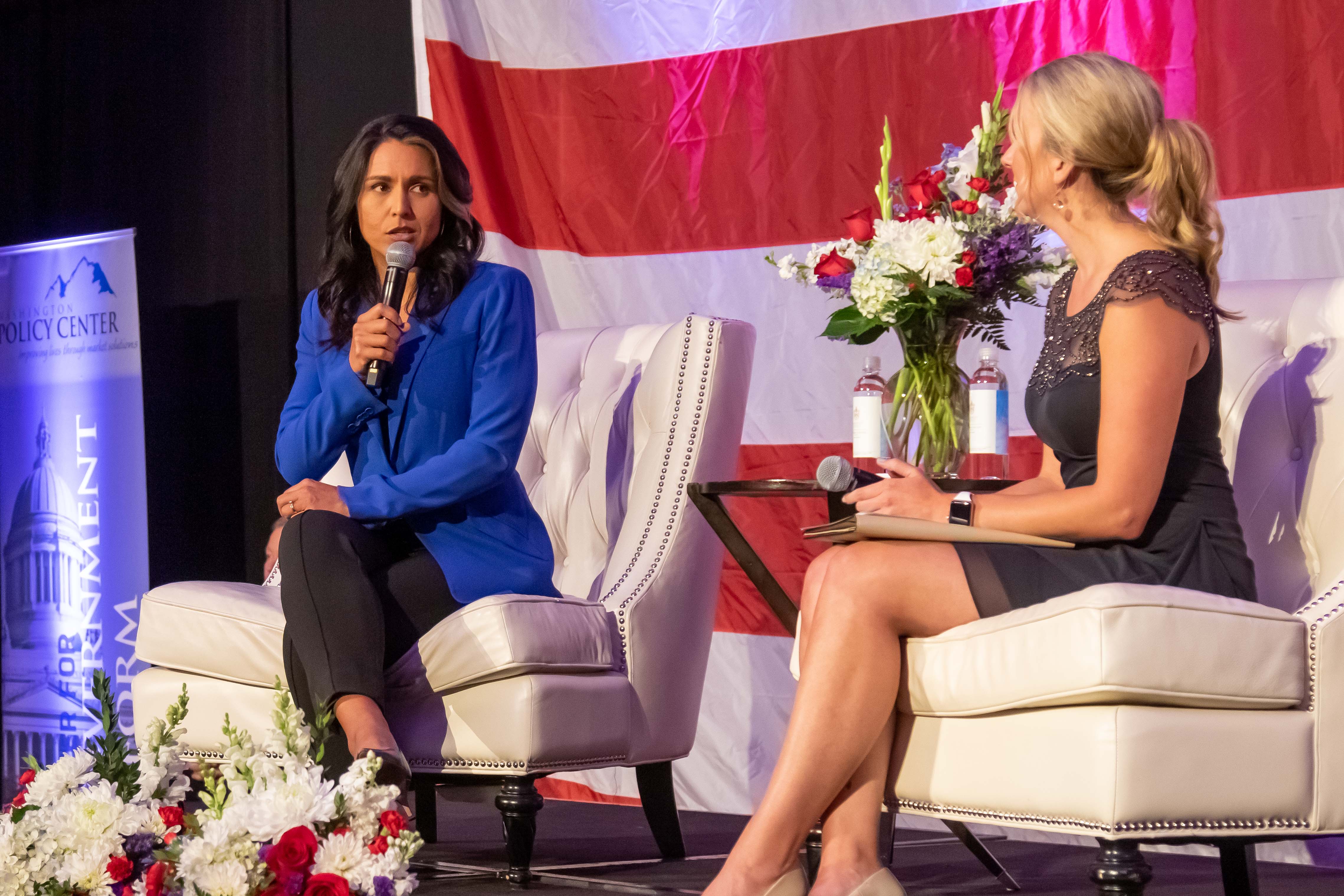 The Message from WPC's Annual Dinner in Eastern Washington
The ballroom at the Davenport Grand was teeming with guests weaving around white linen-covered tables, gathering in small groups while catching up with old friends and occasionally making new ones. As the clock ended at 7 p.m., WPC's countdown video began, playing clips of great speakers past until the end with WPC Chairman Mark Pinkowski taking the stage, welcoming guests and introducing emcee duties to WPC's longtime outgoing director in eastern Washington. , Chris Cargill (who received a warm tribute and a standing ovation at the end of his last program).
More than 900 people had come to Spokane to support the Washington Policy Center's mission to provide free market solutions and analysis for our state. Hundreds of people raised their hands to indicate they were joining a WPC event for the first time, showing the enthusiasm and thirst for market-based ideas and reforms.
The program began by honoring the United States with the Pledge of Allegiance and our National Anthem, memorably performed by Scotty Nicol. Many in the crowd were moved to join him in song for the final lines. With an enormous American flag serving as the backdrop to the main stage and the patriotic spirit enlivened by the anthem, guests were ready for an evening dedicated to the Northwest's premier free market think tank.
Our two keynote speakers brought hope and warning. Acclaimed historian and author Victor Davis Hanson has warned of militarized politics, broken institutions, dangerous spending and ideological intolerance. He highlighted the growing power of
China and declining US deterrence which added to the risk of war. He lamented that state legislatures change election rules at the last second to help defeat a specific candidate, and revealed a nation divided in ways unimaginable only twenty years ago, a nation that desperately needed to revive its constitution and institutions. Dr. Hanson reminded us that our constitutional republic is getting old, but ideas are timeless and worth fighting for.
Former presidential candidate and congresswoman Tulsi Gabbard remarked that "moral rot" is corrupting our civic debates and social media. She warned against the influence of big tech censorship. She challenged the idea that parents should be deprived of information about what their children are learning in classrooms. Gabbard also called for a new political leadership. Leadership that would commit to solutions that work, not just to the political parties that support them. Her vision was one of hope for a better future and a new spirit of tough debate but patriotic civility, what she called the "Aloha Spirit." She said success is possible because it's necessary, and she thinks a growing number of Americans understand that.
Melanie Stambaugh, the charismatic former state legislator and independent business owner from Puyallup, led the conversation with Tulsi. The two women shared an early start in their respective state legislatures, with Tulsi Gabbard being elected to the Hawaii state legislature at age 21 and Stambaugh to the Washington state legislature at 24. year.
Throughout the interrogation, Gabbard focused on the need to put service and solutions above party and politics and on the need for independent thinking. She expressed disbelief that her statement that 'parents should raise their children, not the government' was a controversial statement in the country today, calling the backlash she faced both 'hilarious' and 'scary' and warned against the tendency of opponents, including powerful politicians and those in big tech, to silence or suppress those with whom they disagreed.
One of the first instructions Gabbard received as the new lawmaker was not to work with Republicans – especially Republicans in swing districts. Even if a bill was good, if a problem for people could be solved, he was told to sit on the idea and wait because credit could not be given to the other side.
Gabbard saw this approach as putting politics before people. After all, those with the problem to solve will continue to suffer even as warring political factions resist solutions. Gabbard recounted how this approach conflicted with the way she was raised and her sense of duty and service.
She said that when she served in Iraq, a sign above the exit door asked "Is today the day?" It was a sobering reminder to those who left the relative safety of base that they could be called to the ultimate sacrifice at any moment. "Is today the day?" It was a reminder of the fragility of our lives, as well as what really matters. So while other political leaders worried about their invitation to the White House Correspondent's Dinner, she felt her service kept her grounded in her work and her priorities.
When asked why she supported socialist Bernie
Sanders for president in 2016, she said it was her way of making a statement to power brokers within her party, including Hillary Clinton, and her best avenue to gain a national audience for her views.
At the end of his address, Gabbard received his second standing ovation of the evening and left WPC guests inspired, motivated and hopeful.
While Gabbard laid out a host of issues facing us as a nation, his main message was one of duty, service and hope. Americans are more involved, they are aware of what is happening around them.
Above all, the Americans would succeed because we have to. We have no other choice.
And so it is in Washington State. It's our home. It is majestic in its diverse natural beauty and it is consistent in its influence. That's why bad ideas won't stay in Washington, they will spread. Our state is emblematic and our influence has grown. It's also why good ideas must take root in Washington and challenge the status quo where necessary.
The Washington Policy Center exists to make Washington a better place to live, work, and raise a family. There is no giving up or giving up. Guests at the annual Eastern Washington Dinner took this message home. It is our hope that they share it and make it grow.